Received this from Ivy today:
Don't look for me. I've left the country. Wretch was told to get rid of me and I scrammed to a better place. It's all the fault of a bunch of nasty pooping dogs. They ruined it for us cats.
And don't be fooled by the new girl. She's such a drama queen. She also drinks too much, and always has a milk mustache. Ugh. Slob.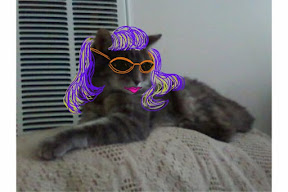 I'll be back soon though. As soon as I get rid of some ugly Schnauzers down the street. And the bulldog next door. Oh, and that yapping Yorkie a few doors down. A girl's work is never done. *sigh*
Love,
Miss Ivy Jones
- Posted using BlogPress from my iPad